UPDATE Jan 10, 2023
A few items of interest from the webinar:
– The main reasons for excluding the Chebucto Peninusla from the CORE areas for Mainland Moose are, to paraphrase, (i) the  low number of moose, on the Chebucto Peninsula even in better times, and (ii) the very poor connectivity between the interior of the Chebucto Peninsula and the greater NS mainland due to development/major highways along the neck of the peninsula. The target is to bring the population up to 5000 animals province-wide and the Chebucto Peninsula will simply not play a significant role in reaching that target.  K.B., a member of the Moose Recovery Team said she strongly advocated for including the Chebucto Peninusula as a CORE area, but understood the reasons that was rejected by the team as a whole and she noted that nevertheless, the moose on the Chebucto Peninsula are still  protected.
– There was a lot of discussion of the need  for increasing wildlife connectivity between the Chebucto Peninsula and the greater NS mainland regardless of the moose issue.  Concern was expressed that the NS Government is not giving much attention to this issue, e.g. as massive new road building is announced.
– C.C. emphasized the importance of 'building up, not out' in urban areas so as reduce impacts on wildlife habitat in more rural areas; social equity is part of the issue as well.
– M.L. noted that a lot of the interior of Chebucto Peninsula is roadless and protected;  development occurs mostly around the periphery. Significantly, the interior generally hosts very few white-tailed deer*
*Low deer numbers are very much a positive benefit for moose because of the role of deer in propagating moose brainworm.
– M.L., who knows the area well and has been looking for moose and signs of moose (especially their browse of red maple), is confident that there are at least 5 animals on the Chebucto Peninsula currently, and that there has been calving in recent years. He observed a dead moose this past December, the death apparently due to natural causes (he mentioned predation) rather than poaching.
– I asked the question, given that the interior of the Chebucto Peninsula has supported a group of 25-50 moose in recent history, could we not import moose from N.B. to increase the current population and genetic diversity? B.B. said that  requests had been made of the NS Government to actively transport moose (or to allow such transport) from N.B to N.S., but these had been turned down.
– Nature NS moderator J.L.  asked what steps Nature NS could take to support establishment of a viable population of Mainland Moose on the Chebucto Peninsula. Following the discussion, she concluded  that there are two: (i) to facilitate Citizen Science observations of moose and signs of moose on the Chebucto Peninsula; this could involve training in recognizing moose browse, for example; and (ii) to campaign, raise funds etc. for construction of wildlife passageways across existing and new highways.
Thx Nature NS for a very worthwhile webinar/discussion-  D.P.
———
In earlier days, sightings of the endangered Mainland Moose in the Backlands were not uncommon; there was a sighting on Williams Lake in 2016. A group of 25-50 Mainland Moose has resided on the Chebucto Peninsula for years, but as in other areas of the province, numbers dropped precipitously between circa 2010 and 2017 and continue to be low. In 2019, NS Naturalists took the province to court contending that Lands and Forestry Minister Iain Rankin had failed to meet  requirements of the  Endangered Species Act for 34 endangered, threatened, and vulnerable species including the Mainland Moose, wood turtle, and bank swallow. The Naturalists won the case in May of 2021, and On Nov 26, 2021,  the government released its revised Mainland Moose Recovery Plan. However, in this plan, and in contrast to previous plans, the Chebucto Peninsula was excluded from areas of Core Habitat management.
Announcement from Nature Nova Scotia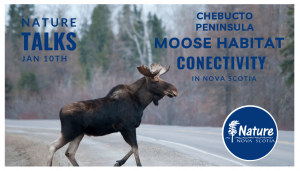 Join us for our next Nature Talk:
"The Chebucto Peninsula and Moose Habitat Connectivity"
Tues Jan 10th at 7 pm
Nature Nova Scotia is still working to help save the Mainland Moose. It's been over a year since the the Mainland Moose recovery plan with core habitat was released. During this webinar, We will be discussing the Chebucto peninsula and its value to the Mainland Moose population, with special attention to how areas were identified for core habitat. We will also be discussing the health of the moose population, research done in this area, and the potential for better connectivity through wildlife overpasses or underpasses.
Our panelists include :
Karen Beazley: Professor Emeritus at Dalhousie University's School for Resource and Environmental Studies in Halifax, Nova Scotia. For more than 30 years, Karen's applied scholarship has focused on the ecological and philosophical bases for biodiversity conservation, spatial conservation-network design, coproduction of knowledge, and conservation through reconciliation with Indigenous peoples. She is a Member of the IUCN World Commission on Protected Areas, Member of Nova Scotia's Mainland Moose Recovery Planning Team, Chair of the Nova Scotia Crown Share Land Legacy Trust, and Senior Researcher in the Conservation Through Reconciliation Partnership, among many other commitments and leadership roles. She is a settler Peace and Friendship ally and Treaty person in Mi'kma'ki, currently living in Windsor, NS.
Mike Lancaster: Mike wears many hats: he is the Executive Director of the St. Margaret's Bay Stewardship Association, Coordinator of the Healthy Forest Coalition, Stewardship Coordinator of the Woodens River Watershed Environmental Organization, and the owner of a forestry and wilderness trail management and consulting company. Mike's work on the Chebucto Peninsula spans almost two decades, with thousands of hours of field-time, and ranges from the coordination of formal initiatives, such as the Bluff Trail Stewardship Program, to a near-lifetime of recreation and observation.
Caitlin Cunningham: PhD Candidate in the School for Resource and Environmental Studies at Dalhousie University and white settler living as an uninvited guest on unceded Mi'kmaq territory. Her research is focused on biodiversity conservation in urban areas and considers how cities can be built so that nature may thrive alongside humans. She uses a wide range of geospatial methods to look at how different spatial patterns within cities affect wildlife populations and where, when, and how human-wildlife interactions are occurring.
Our talk will take place over zoom. Register by 6 pm on Jan 10th to get the link!
See you in the new year!
info@naturens.ca
Nature NS: Facebook Page | Website
—————
For some background and a not-unbiased perspective on this topic, see 2021 Mainland Moose Recovery Plan excludes Chebucto Peninsula from areas of Core Habitat management 5Jan2021
(Post on nsforestnotes.ca, Jan 5, 2022)
Summary
Historically moose in the the Bowater-Mersey St. Margarets Bay lands were considered contiguous with the population on the Chebucto Peninsula and together formed one of the four Core Population Areas recognized in 2012. The 2021 Mainland Moose Recovery Plan, however, excludes the Chebucto Peninsula from areas of Core Habitat. The reasons are a bit obscure but seem to be related to the Recovery Team's contention "that development has led to declines in the Chebucto Peninsula region" and "a loss of connectivity across the landscape". However, there is no evidence that the declines on the Chebucto Peninsula have been any more precipitous than in other areas of NS that are retained as Core areas. Also, these comments do not recognize the demonstrated commitment of Halifax Regional Municipality, supported by its citizenry, to addressing habit and connectivity issues, especially for the Chebucto Peninsula. Surely, the Chebucto population should continue to be treated as contiguous with the moose in the Bowater-Mersey St. Margaret's Bay land, and part of the Core Habitat for the Mainland Moose. Read More
More about Nova Scotia Moose