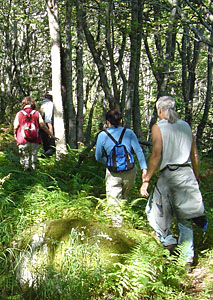 We are a coalition of non-governmental groups. Our mission is to ensure no loss of wildlife habitat in the Backlands and to preserve them for natural, historical, cultural, conservation, educational, recreational and common use.
We are also on Facebook and Twitter (@HfxBacklands) and as of Dec 21, 2022, on Instagram.
We acknowledge that the Backlands are in Mi'kma'ki, the ancestral and unceded territory of the Mi'kmaq People.
This website, set up in 2013, is administered by David Patriquin  – always 'looking for contributions and others to take it over entirely but OK in the meantime. It is hosted on funio.com in Montreal. It is archived on the Internet Archive
Unless otherwise stated, photos on this website were taken by David Patriquin and may be used under the conditions of a Creative Commons License.