Links to photos of The Backlands – please forward more!
Heathy Hues
Photos by David P. Fall scenes from the backlands by Williams Lake (Oct 22, 2013)
Summer Day on Lower Mac Run
Photos by David P.  A bit beyond York Redoubt heading towards Herring Cove on Purcell's Cove Road there is a "Fire Road" on the right that goes into crown land and the Pine Island Ponds. I have hiked there often, through spectacular barrens, both before and after the fire of 2009, once on the lakes in winter. On Aug.7, 2013, I went there with my newly acquired FastTrack kayak to realize a little day dream: doing it by water. I enjoyed some beautiful wetlands and refreshing, brown (but clean) water. (Photos by David P.)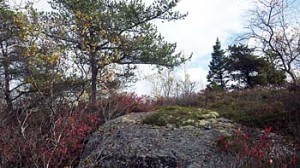 Piggy Mountain
Photos on Oct 15, 2013 include a 360 degree panorama.
A Walk to Piggy Mountain in Halifax, Nova Scotia
Video, Oct 15, 2019 Photos by David P.
Regeneration of Forest and Barrens after the Spryfield Fire of April 30, 2009
Photos by David P. A set of photos illustrates the regeneration of vegetation over 16 months after an intense fire swept through forest and barrens in the vicinity of Spryfield, Nova Scotia on April 30, 2009. The fire destroyed twelve homes. The photos are from two areas: the Purcell's Cove Conservation Lands, and on crown land in the vicinity of Lower Mud Pond. This landscape is particularly fire-susceptible and supports a unique plant community adapted to recurrent fires.
Last Days of an Urban Wilderness? The Williams & Colpitt Lakes Backlands
Photos from hikes with Halifax Field Naturalists on Aug. 25, 2012 & the Williams Lake Conservation Co. on June 1, 2012. Photos by David P.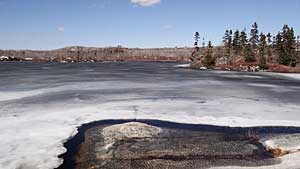 Landscape Panorama from a high point in the Williams-Colpitt Lakes Backlands
This 360 degree panoramic view gives a sense of the extent of this pocket of wilderness, also of it's situation within a larger urban area and of creeping encroachment by concrete and asphalt. Photos on Aug. 25, 2012. Photos by David P.
Winter Daze by Williams Lake
Photos on January 22nd and 24th, 2013. A wonderful place to enjoy winter! Photos by David P.
Landscape in Transition
A panoramic 360 degree view of a landscape in the process of transition from a wild to a domesticated state. Assembled from photographs taken on Nov. 1, 2011 above Colpitt Lake on Halifax mainland south. Photos by David P.


Backland Gardens
The glacially scraped landscape of the Purcell's Backlands presents a mosaic of habitats and species hard to match, especially in their beauty and serenity. On a not too sultry summer day (Aug 3rd, 2013), Nova Scotian nature nuts Nick H. and David P. bushwhacked their way across the landscape in search of a Jack Pine swamp they had seen earlier in the year. (Jack Pine is unusual in a wetland setting.)
Jack Pine – Corema Gardens
Photos by David P Nov 6-7, 2013
Williams Lake, at the Wildland-Urban Interface
Panoramic view of Williams Lake from the Backlands on Oct 4, 2013
Backlands Intro…
Photos by David P Apr 22-30, 2013
Final Flashes of Fall Colour in the Jack Pine Barrens
Photos by David P, Nov 8, 2013
Halifax Adventure Seekers at Purcell's Cove Conservation lands
Photos by David P, Jun 5, 2013
Purcell's Cove Quarries
Photos by David P, Nov 15, 2015
Williams Lake Backlands Sep 1, 2016
Photos by David P,
PCCL July 19, 2016
Photos by David P,
PCCL2 July 19, 2016
Photos by David P