The Watershed
On McIntosh Run Watershed Association website
"The McIntosh Run river flows within the Halifax Regional Municipality on the Atlantic coast of Nova Scotia. About 13 kilometers in length, the Run's headwaters are tributaries to Long Lake. The McIntosh Run flows through the community of Spryfield and into the area known as the "Backlands" where it connects East Pine Island Pond, West Pine Island Pond, Long Pond, and Powers Pond along with other smaller pools and wetlands. The McIntosh Run then drains into the Atlantic Ocean through Herring Cove. Human-built diversions and pipes that connect Long Lake to Spruce Lake and other lakes in the Chain of Lakes System, have effectively increased the area of the McIntosh Run watershed from it's natural topographic boundaries (the natural boundaries are shown in red on the attached photo).
"The watershed area, about 37 square kilometers, is a mix of natural vegetation (mostly spruce-pine-fir forest, granite barrens, wetlands and lakes) and residential and retail development. About half of the lands are private and half are provincial Crown lands, the latter most notably Long Lake Provincial Park and large parcels in the Backlands."
The Comparative Advantages of Open Space Development Design: MacIntosh Run Development Proposal: a Case Study
IG MacDougall – 2002 Master Thesis in urban Planning, Dalhousie University "This research considers open space development design in some detail, describing the benefits it offers, and identifying key issues pertaining to the planning of residential subdivisions in Nova Scotia…conclusions were drawn by examining a specific case study: a planned development near the Mclntosh Run in the Mainland South district of the Halifax Regional Municipality. A developer's existing plan was contrasted with a plan created using the principles of open space development design. In the latter plan, more space was left undeveloped, houses were more closely clustered, total road length was shortened and much greater attention was paid to protecting the integrity of the nearby river.
Land use change in the McIntosh Run Watershed, Sprtfield, Nova Scotia
A Fitzpatrick – 2016 Honors thesis, Earth Sciences, Dalhousie.Scanned but not OCR'd document, unfortunately, not very good quality. Very Informative maps showing changes in land use.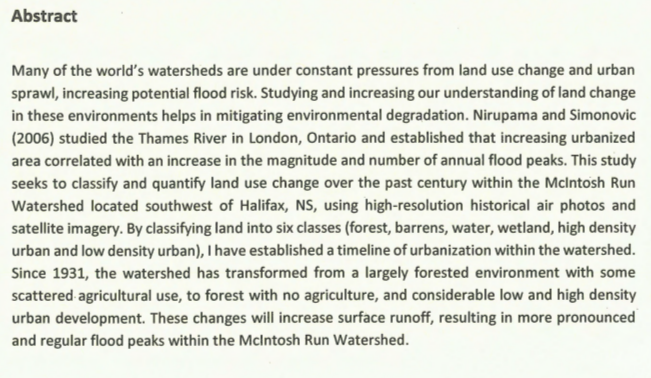 Page posted by david p Dec 4, 2022