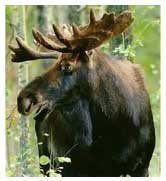 On January 22, 2016, a resident observed a moose which came up from the shore of Williams Lake and into the backyard. It was a male with antler stubs.
Such sightings are reported every now and then and provide evidence that the Chebucto group of the endangered mainland moose make use of the Backlands. Read more about this group. See also DNR's Mainland Moose Frequently Asked Questions
Sightings should be reported to DNR.