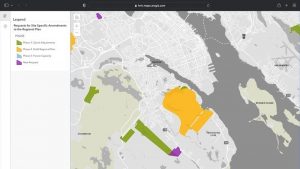 86 hectares of land in Purcells Cove is proposed for rezoning and development Rezoning Map. While some may think this is a good opportunity for development, please take a moment to reconsider… and if you agree, sign Our Petition
The rich backlands in Purcells Cove provide a number of rustic hiking/biking trails and lakes that are currently enjoyed by many. This area includes the trails around The Conservation Lands/Purcells Pond, trails connecting MacIntosh Run to Coal Pit Lake, Flat Lake, and the trails extending from Shaw Wilderness Park and surrounding Williams Lake. It has been proven that time in nature provides a natural mood boost and getting outdoors for exercise improves the health of communities. Access to enjoy these trails and spaces must be protected.

If these lands are developed there will be devastating loss of natural habitat for the local fauna and flora. This area is one of the few spaces close to the city that provides a natural space. While maintained parks and trails are beautiful, they are not the same as natural ecosystems teaming with wildlife. With development natural wildlife habitat will combine with neighbourhood streets, which we already see happening quite frequently with deer in HRM. We must protect the wildlife species that do not get a say.
The environmental impact also needs to be considered. The lands up for rezoning are in close proximity to the coastline which means substantial effects on water flow and erosion. Purcells Cove Road already has a number of areas of water damage from drainage towards the ocean. Without plants and trees there will be increased flooding, erosion and water damage to roads and properties. Development in this area will ultimately lead to increased pollution. We all know it is a critical time for climate change and Halifax must consider the detrimental impact on the environment developing this area will cause. These green spaces are vital to healthy communities and need to be protected.
Please consider adding your name to Our Petition and/or reaching out to your MLAs, Councillors and Members of Parliament.
Thanks
– Wendy Chisholm
Also View
– Keep the Urban Reserve zoning designation in the Backlands
by Kathleen Hall, posted on backlandscoalition.ca May 12, 2022. Two pages of text, 4 pages with maps
– Request for zoning change, if granted, would seriously undermine ecological integrity and recreational potential of the Purcell's Cove Backlands 4April2022
Post on backlandscoalition.ca, April 4, 2022