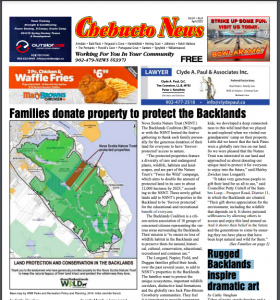 The Backlands Coalition and the Nova Scotia Nature Trust hosted an event at the Purcell's Cove Social Club recently to celebrate and thank four families who had donated their lands in the Backlands to the Nova Scotia Nature Trust (NSNT.) Writes Cathy Vaughan in the Chebucto News for April 2023.
The Longard, Napier, Field, and Duggan families gifted their lands, over the past several years, to add to NSNT's properties in the Backlands. The families want to protect the unique ecosystems, important wildlife corridors, distinctive land formations and the globally rare Jack Pine-Broom Crowberry communities. They feel it is important to provide permanent access to these stunningly beautiful properties in the Spryfield area.
Commented Councillor Patty Cuttell of the Sambro Loop – Prospect Road, District 11, in which the Backlands are situated:
Their gift shows appreciation for the environment, including the wildlife that depends on it. It shows personal selflessness by allowing others to access and enjoy this land around us. And it shows their belief in the future and the generations to come by ensuring they too have places that have been kept natural and wild for them.
Indeed,  these are wonderful gifts. Thanks Backlands Families, Thanks NSNT, and Thanks Cathy Vaughan for writing about it.
Continue reading →