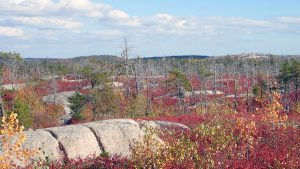 Mid fall, when the huckleberry leaves turn fire engine just before finally being shed, is a great time to visit our Jack Pine-Crowberry Barrens.  We are past the peak of it now, especially with recent heavy winds and rains, but there should still be some remnant flashes of red this weekend, great for photographs.
These barrens are most readily accessible via the trailhead for the Osprey Trail; it's located on Alibaster Way at the southern edge of the Governor's Brook residential area. For the exact location, view the Trailhead on Google Maps. The Osprey Trail is super-popular for both both mountain-biking and walking. The Osprey Trail is one piece of a larger network of trails in this area built and maintained by the McIntosh Run Watershed Association.
There are a couple of features of the barrens in this area that make it a quite special place.