Just received from M.C.: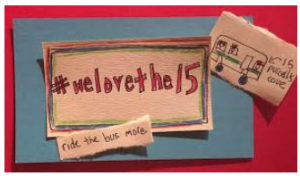 November 24th is the last day for service as we know it on the #15 bus route. It would be remiss of us not to acknowledge the success of saving the route and to take this opportunity to advocate for the restoration of some weekend, daytime, and evening service. 
A tremendous amount of effort went into keeping the route from being cut completely — a demonstration of the power of this community and the leadership within it. But we also know the reduced service has serious implications for many people in the area. This is an issue of equity, accessibility, and environmental choices, as well as a disregard for the history of Purcell's Cove. 
To celebrate past efforts, to demonstrate appreciation of the bus service, and to bring attention to the need for some additional daytime, weekend, and evening service, there will be a COMMUNITY BUS RIDE on SUNDAY NOVEMBER 24 on the 2:10pm bus from York Redoubt to Mumford and back. You can join in at your preferred stop. 
This is a rather spontaneously organized event and your participation is what will make it great. 
A media release will go out to raise awareness about the challenges the new schedule poses, so a good turn out on Sunday will be helpful toward advancing this cause. Please come share your appreciation for the  #15. Let your neighbours know and encourage others to come get on the bus too! 
Event Page: #15, We Aren't Done With You Yet!
Purpose: A community bus ride in support of the continuation of route #15.
When: Sunday November 24, on the 2:10pm bus leaving from York Redoubt to Mumford, and back. 
Where: On the bus! 
More details here