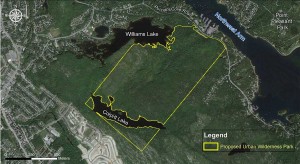 So reads a headline in the Chronicle Herald. From the article:
A fundraising effort that will see an urban wilderness park established in Halifax has finally passed the finish line.

The Nature Conservancy of Canada and local conservation groups held a celebration Monday with the establishment of the Shaw Wilderness Park in the Williams Lake area.

"It's official, folks: 380 acres of wilderness just across the street and down the road are permanently conserved and protected for conservation," Craig Smith, the NCC's program director in Nova Scotia who has spearheaded the project, told a packed room at the Royal Nova Scotia Yacht Squadron on Purcells Cove Road…

A specific date hasn't been set for the official opening but the NCC plans to hold an outdoor community celebration once signage is built and the weather warms up.

The agreement with the Shaw Group will see the company build the parking lot at the Purcells Cove Road access point.