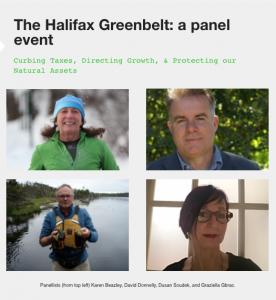 Are you wondering what the Halifax Green Network Plan is? Are you wondering how a Greenbelt could lower your taxes and boost the economy? Or maybe you're wondering which parks and corridors would be included in the Greenbelt? Join us to learn about all this and more!
When: Wednesday January 18th, 2017, 7:00 – 8:30 p.m.
Where: Room 1020, Kenneth C. Rowe Building, Dalhousie University. 6100 University Avenue, Halifax.
The evening will begin with a brief presentation by each of the panellists on creating a Greenbelt for a livable city, and then audience members will have a chance to pose questions on urban growth boundaries, economic benefits of the greenbelt, regional park creation, rural economic viability, urban and suburban business districts, natural heritage corridors, and many other topics!
About the Panellists:
Karen Beazley is a professor at Dalhousie's School of Resource and Environmental Studies.
David Donnelly is an environmental lawyer and Greenbelt expert from Toronto, Ontario.
Dusan Soudek is the Director of Environment at Canoe Kayak Nova Scotia,
Graziella Gbrac is the Executive Director of Village on Main, Dartmouth.