Susan Tooke has done it again! Her video animation "3B: Backlands, Badlands, Burbs", projected on the Halifax Central Library, was a hit at last year's outdoor art festival. This year, she teams up with Lukas Pearse (projection) and Daniel O'Neill (audio) to bring the city's natural spaces right into the Grand Parade.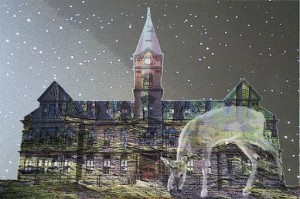 Nocturne: Art and Night 2016 happens this Saturday, October 15 from 6:00 pm to midnight. Be sure to visit City Hall, which becomes an outdoor screen for an audio / video installation based on HRM's parks, wilderness areas and green spaces.
As the Nocturne interactive guide describes Wild at Heart: "As Halifax undergoes development and the densification of the city core, the surrounding wilderness areas and public access to meaningful green space can be impacted. Urban growth comes with varying costs to nature and can lead to a population that no longer sees themselves as connected to the natural world.
With the increased discourse in our communities surrounding construction and the growth of our city, this is an important time to encourage consideration of the ways that this growth impacts the natural environment we inhabit and changes our relationship with the natural world."