Hello everyone,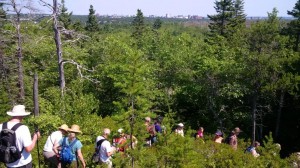 Council's recent endorsement of the Shaw Group Ltd. / Nature Conservancy of Canada proposal in the Backlands certainly is great news! On September 20, Councillors voted 14-1 to accept the Halifax staff recommendations to move forward with negotiations between NCC, The Shaw Group and the Halifax Regional Municipality.
The reality of a wilderness park running from Williams Lake to Colpitt Lake is certainly getting closer. We would like to thank everyone who wrote letters, spoke to Councillors, attended the public information session and spread the word! It is heartening that the views of the community were heard by Halifax staff and Council. In case you missed the details that day, here are some links to further information:
A milestone: Halifax Council votes 14-1 to begin negotiations for Urban Wilderness Park; urbanwildernessparkhfx.ca, September 20, 2016
Halifax staff report and recommendations, dated Sept. 14, 2016
Video of the September 20 Council meeting (click on Item 14.1.8 regarding Purcell's Cove Backlands, around the 52-minute mark)
Halifax regional council moves ahead with proposed Purcells Cove park: Council directed staff to begin negotiations; Metro Halifax, Sept. 20, 2016
Halifax Council to explore Purcell's Cove park plan; The Chronicle Herald, Sept. 20, 2016
HRM staff recommend purchasing the Purcells Cove Backlands; The Coast, Sept. 19, 2016
In the coming months, as the negotiations continue with many details to be worked on, we will provide information as it becomes available. We also encourage you to sign up for updates through the dedicated website, www.urbanwildernessparkhfx.ca.
For anyone taking in Nocturne this Saturday evening, also find details below about "Wild at Heart," which will be projected on City Hall. Sure to be a highlight, this new artwork explores the importance of our human connection to the natural world as Halifax grows.
Thanks again,
Kathleen Hall, Paul Cashman & Marla Cranston
On behalf of the Backlands Coalition