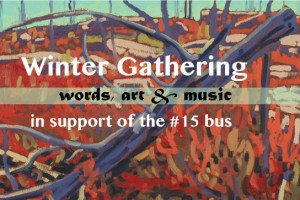 Join us on December 12 for an afternoon festival of arts in beautiful Purcell's Cove, and show your support for the #15 bus.
From 3pm-6pm, the Purcell's Cove Neighborhood Committee is hosting a program of music, literary readings and visual art at oceanside Purcell's Cove Pottery. Festive readings by Catherine Banks, Stephanie Domet, Andy Fillmore and Paige Hare promise to entertain and inspire, and music by Kev Corbett will fill the room with stories put to song. Come early and take part in the exhibition of visual art by Geoffrey Grantham, Danyele Belliveau and Eva Toth with early music by The Rascals and the sacred songs of St. Vladimir Orthodox Church Choir.

Throughout the weekend (Dec. 11-13), you are invited to take part in the annual Purcell's Cove Pottery Open Studio & Sale featuring the exquisite pottery of Sally Ravindra. Show your bus transfer on Saturday afternoon and you will save 10% off pottery! See below for Open Studio hours.
Purcell's Cove is an historic Halifax community, connected to HRM by the #15 bus. In their new transit plan "Moving Forward Together" Halifax Transit aims to cut bus service to this community and offers no transit alternatives for the students, commuters and persons with disabilities who use the #15 bus to get around. Show your support for public transit is by riding the bus to Purcell's Cove for this festive celebration of music, arts & the #15 bus!
The event is free and open to the public. Refreshments will be served, with a reception to follow. Find the event on Facebook by clicking here.
GETTING HERE
Take the #15 Purcell's Cove, getting off at Battery Drive. Walk Southbound on Battery Drive. Turn left at Umlah's Road. At the fork, take the left and you are on Pottery Lane. The events will be held on the 2nd Floor of 16 Pottery Lane. The Open Studio will take place on the Ground Floor of the same building.
WINTER GATHERING:
2:00pm-3:15pm
Visual art exhibition and Pottery Open Studio
Music by The Rascals and St. Vladimir Orthodox Church Choir
3:15pm-4:30pm
Readings by Catherine Banks, Stephanie Domet, Andy Fillmore & Paige Hare with music by Kev Corbett
4:30pm-6:00pm
Reception, refreshments provided
PURCELL'S COVE POTTERY OPEN STUDIO
full weekend hours:
Friday, December 11 — 4:00pm to 9:00pm with Mulled cider and snacks
Saturday, December 12 — 12:00pm to 9:00pm
Sunday, December 13 — 12:00pm to 6:00pm
(for more details on the Open Studio, click here)
Image courtesy of Geoffrey Grantham. "The Fallen" (2014). Oil on Panel. Available at Pavia Gallery.