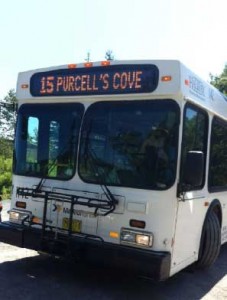 Hello Purcell's Covers and Friends!
Thanks to all of you who came to the Save-the-Bus Rally two weeks ago. At the rally, over 65 neighbours made a pledge to ride the #15 bus more often. Way to go! How are you doing with your pledge commitment? Increasing ridership is a big part of our campaign and together we are making a difference. Help us show Metro Transit and city council that we are riding the #15 bus. Share your story about your bus riding experience with us through Facebook or email and we will share it with the community. Let's keep the momentum going!
Facebook – like! share!
For those of you on Facebook, you can post your stories, photos and comments directly on our community page Purcell's Cove Now (formerly called The Purcell's Cove Neighbourhood Bulletin Board). While you're there, you can see what others are saying by reading the "Visitor's Posts" on the left sidebar. There are some fun photos up already as well as links to a few excellent media articles. Don't forget to use the hashtag #welovethe15 for documenting all your bus adventures!
Send us an email
If you don't use Facebook, you can send your stories and photos to our new email address purcellscovenow@gmail.com and we will share them on your behalf. You can help us build support!
It is critical that we keep the wheels turning on this campaign. The best thing you can do is ride the bus. While you're at it (or, on it) tell us about it! We will keep you posted about some exciting upcoming events.
yours truly,
the Purcell's Cove Neighbourhood Committee