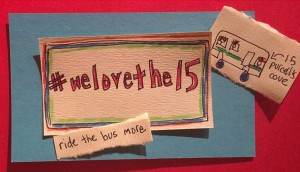 Dear Residents of Purcell's Cove and Area
CHANGE OF DATE: The Motion to cut the #15 will now come before Council on November 27th. With Steve Adam's help we have been given two more weeks to make our case. We need letters, even short ones, that describe the effect of the cuts or you or people you know.
You can call and/or email Councillor Steve Adams. THE MORE MESSAGES THE BETTER. We are depending on him as our elected councillor to put our views forward and suggest further changes to this motion so that we do not lose this service and so that Council is aware of the repercussions of this motion being passed. Please cc emails to nbrett@dal.ca. Contact information*:

Call: 902-497-8818
Email: stephen.adams@halifax.ca
You can also contact his assistant Quentin Hill at hillq@halifax.ca, 902-490-1463.
*UPDATE: Councillors Adams has clarified the question of contacting the Council:
Good afternoon, Nathan:
Emails would be preferable for this issue, as I can then forward them to Council members.
There are two ways in which this can be done:
The first is to send emails directly to our Clerk, (clerks@halifax.ca). Please ensure that you add a line stating, "please forward my email to members of Council and Transit staff" or similar wording.
The second is to send an email to me, again with a line added that the email can be distributed to Council and Transit staff.
Thank you,
Stephen [Adams]
Here are some of the arguments we that we think are important. Please let our councillor know why you think this matters to you.
– Need: Many in the Purcell's Cove area depend on the #15 bus as a safe way to get back and forth to the city centre all through the day (not just rush hour) and also on weekends and holidays. People without cars, especially younger and older people depend on it. There are no services in Purcell's Cove any more. Please provide as many concrete examples as you can to Councillor Adams about how you and others depend on this service all day, every day plus weekends and holidays.
– Public Access to recreational areas. The creation of the new Williams Lake Urban Wilderness Park must be accessible by public transport. The main access is planned to be across from the RNS Yacht Squadron. Most of the lakes and trails can only be accessed from Purcell's Cove Rd. The demand for recreational use of the bus will be weekends and holidays and not at rush hour on weekdays. Access is also needed for the Nova Scotia Nature Trust lands at Purcell's Pond AND a new trailhead for the McIntosh Run trails network that will be created near York Redoubt. Cutting back on the #15 bus now is in direct contradiction to the new Green Network Plan and other environmental initiatives!
– This is a historic route (80 years of service) and the service was promised to continue after Purcell's Cove was annexed to the city of Halifax. There are many important social and recreational reasons that the service should be maintained — it is not just a matter of numbers but of social justice and community inclusion. Ridership is important on the route and we will continue to work to increase ridership in future. The new park will help with that.
– Our transit taxes pay for the route. We will not be reimbursed on our Local transit taxes for losing 70% of services on this route.
Council should direct Transit to preserve service during the day and on weekends to the service because our area, because once the cuts are made (according to the current Transit policy), they are permanent cuts.
Please thank Councillor Adams for his commitment to bring this forward to council but don't let up the pressure – it's our last chance to be heard!!
Sincerely,
Nathan Brett
on behalf of the Bus #15 Action Committee