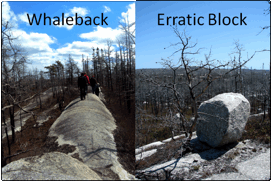 Geological Notes
The Backlands are a glacially sculpted terrain, with features such as erratics, whalebacks and drumlins. Granite and "bluestone" metamorphic rocks were once quarried in Purcell's Cove, for buildings and fortifications. Geologist Marcos Zentilli prepared these note for a set of Jane's Walks into the Backlands on May 3, 2014.
Inventory of Geological Values in the Vicinity of Colbart Lake, Nova Scotia.
Report by Chris Miller, 1997.
WESP Report on Wetlands by mouth of Colpitt to Williams Lake watercourse
Assessment conducted on Aug 31, 2020 by Emma Bocking of Ducks Unlimited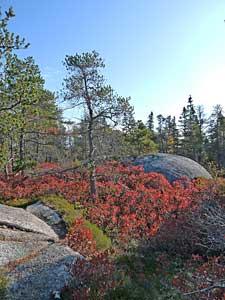 Ecological Assessment of the Plant Communities of the Williams Lake Backlands
A Report to The Williams Lake Conservation Company (Feb 13, 2014): The Williams Lake Conservation Company has issued a report which documents the plant communities of the Williams Lake backlands. Prominent amongst them: the rare, Jack Pine/Broom Crowberry barrens. "While the survey focused on these lands, many of the findings apply to the larger Purcell's Cove Backlands. It is noteworthy that the authors advance some novel perspectives on the ecological values of the area. The issues of fire management and wetland protection require attention and discussion by the larger community" says Kathleen Hall of the WLCC.
A Rare, Fire-Dependent Pine Barrens at the Wildland-Urban
Interface of Halifax, Nova Scotia
Presentation by Nick Hill and David Patriquin to the Wildland Fire Canada 2014 Conference.
Regeneration of Forest and Barrens after the Spryfield Fire of April 30, 2009
Photo-essay by Richard Beazley and David Patriquin.
Species List for the Purcell's Cove Conservation Lands: 2012 Update
The Halifax Field Naturalists conduct an annual biodiversity inventory for this protected area in collaboration with the Nova Scotia Nature Trust. See also: Photos and GPS Info for the 2012 PCCL Inventory
Sparrows Hawks & Doves Project
Report by Martha R Leary, March 2022
Williams Lake Wildlands Birding Project
This document, posted on the Williams Lake Conservation Company website, is a 2012 report by Fulton Lavender of birds in the Williams Lake area. Forty-one species, including loons were confirmed to breed in the area, another 8 are likely; the observations suggest a busy migrating corridor. He notes "It is most noteworthy that the historical existence of the Whipporwill, Chuckwill's Widow and Nighthawk signifies a unique occurrence. These goatsuckers or Caprimulgidae signify a very special area as there is no other in Eastern Canada." Read more
The Mclntosh Run: Environmental Resource Analysis for the Wildlands Working Group and the citizens of Mainland South In Halifax County.
Report by Henri Steeghs E.P.1 Studio prfs. John Zuck and Derek Davis N.S.CA.D. Autumn 1994. "E.P 1 Studio prepared a comprehensive environmental resource analysis on the Mcintosh Run drainage system and the nearby coastal zone. This report contains the findings of a physical environmental inventory, as well as recommendations on potential land use."
Vernal Pool Mapping in the Williams Lake Watershed, Halifax
Project Report by Huan Liu, Dalhousie School of Planning, 2012. This project tested several remote sensing approaches for documenting vernal pools by employing them individually in mapping potential vernal pools in the undeveloped area of the central Williams Lake Watershed. Field observations examined the accuracy of the predictions and an evaluation of the methods and data that this project used.
Pristine Shoreline of Colpitt Lake (Video)
David P paddles the shoreline on June 20, 2015 and comments on what he sees.
Water quality measurements on Williams Lake and Colpitt Lake (Halifax, N.S.) Dec 7-13, 2015 with reference to possible impacts of road salt
Report to Williams Lake Conservation Company (WLCC) by David Patriquin, Jan 6, 2016. There is evidence for delayed (or possibly absence) of the fall turnover of the water column in Williams lake which may be related to salt induced stratification. Conditions have clearly deteriorated since 1990/1991. Even though three-quarters of the watershed is undeveloped, salt inputs from the other 1/4 are having significant impacts on the health of both Colpitt Lake and Williams Lake.
 Williams Lake, Halifax. Nova Scotia: An Investigation of the Aquatic Ecosystem of an Urbanizing Watershed [1991/1992].
Report by R. Scott to Nova Scotia Department of the Environment, 1992. 39 pp. The document includes detailed bathymetry; vertical profiles of temperature, electrical conductivity (salinity) and pH observed in 1990/91; nitrogen, phosphorous and chlorophyll; and contrasts these observations with those of earlier studies during a period of higher salt and nutrient loading.
Technical evaluation of the Halifax Harbour Cleanup Inc.: Environmental assessment report for the Halifax-Dartmouth Metropolitan sewage treatment facility.
Document prepared on behalf of the William's Lake Conservation Company (WLCC) by Patricia Manuel, and Martin Willison, Oct 2, 1992. The authors address possible impacts of a proposed connector tunnel for sewage that would be bored through bedrock across the Wildlands. (The project did not go ahead.)
A Biophysical Survey of the Williams Lake-Purcell's Cove Backlands, Halifax County, Nova Scotia.
Report by Patricia Manuel and Martin Willison, Sept 1992. "This study was undertaken to provide baseline data on the biophysical characteristics of that parcel of terrain located between Williams Lake to the north, Halifax City Limits (to the south of Flat Lake) to the south, McIntosh Run to the west, and Purcell's Cove Road to the east. Specifically, geologic structures, surficial materi als, a n d vegetation were documented and analyzed with respect to their ecological attributes and functional relationships. Outstanding, representative, and unusual or rare structures, ecosystems, or species, if present, were evaluated for their significance."
Summary of Findings and Recommendations following from Studies of the Biophysical Character, Cultural Significance and Recreational Use of the Purcell's Cove Backlands.
Prepared for the Williams Lake Conservation Company by Patricia Manuel and Martin Willison. 1993.